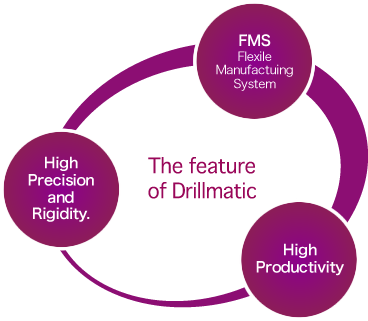 Our Custom Fabrication Machines
Our company has uniquely developed the "Drillmatic". The Drillmatic is a custom fabrication machine consisting of a base and multi-purposed spindle units. In our company the number of rotary based type production is outstanding. A rotary based type machine is good at processing parts at the same time from multi-angles.

The JIGMAC is a specialized fabrication machine for machining centers.


The spindle units of the Drillmatic are strong enough to endure long time operations under severe conditions while providing high precision processing.

Drillmatic is flexibly capable of high-mix production of distinguishing similar parts automatically.

Drillmatic is mainly specialized in processing parts of automobile, electricity and gas-fitting. It provides drilling mirroring, face milling and tapping and so on. It is mainly effective for monthly mass production of 10,000-100,000